ORGANTEQ 2 - New generation of physically modelled pipe organs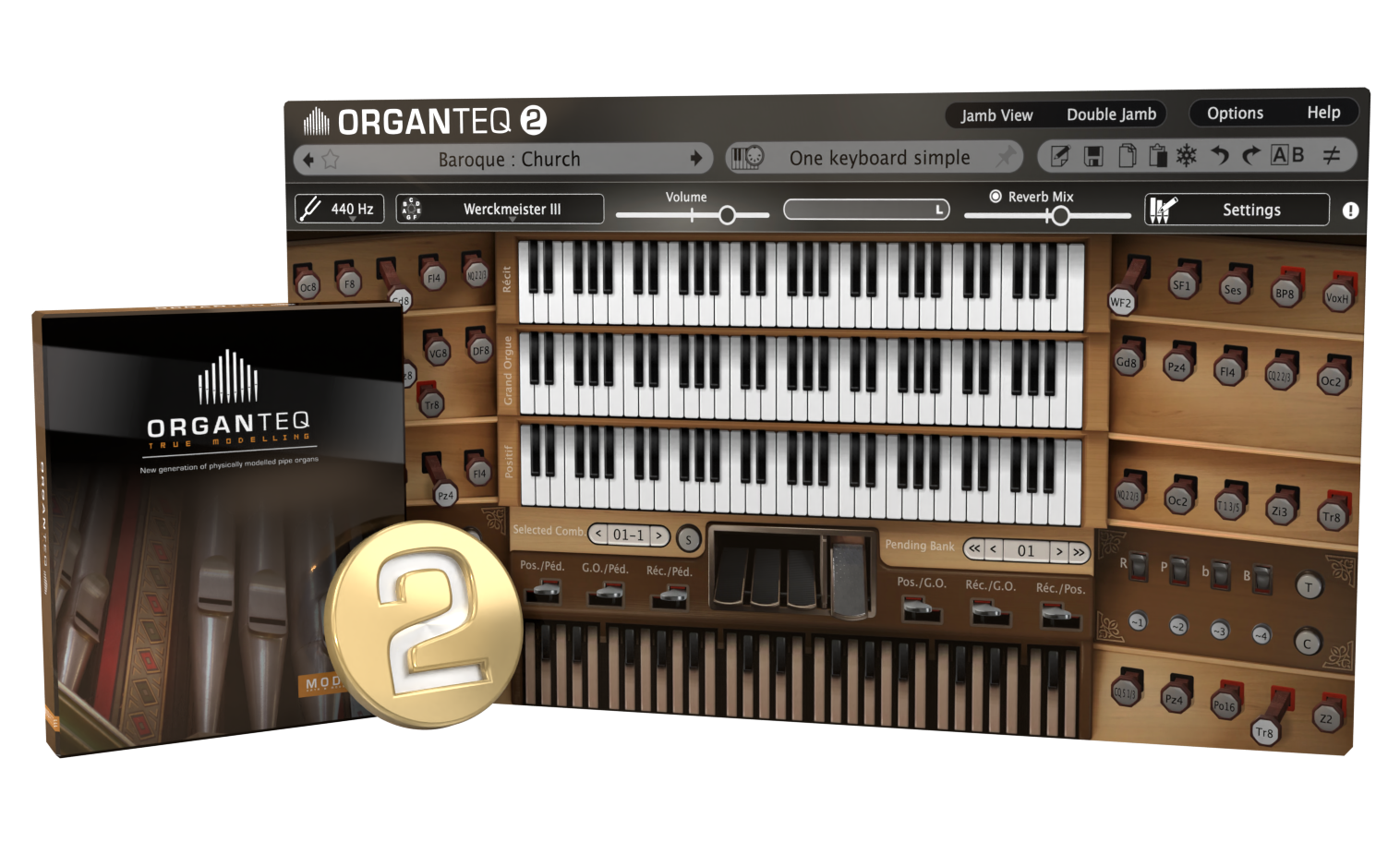 ORGANTEQ offers realtime synthesis of organ pipes sound based on physical model. By capturing the complex physics of flue and reed pipes, it brings a vivid instrument of stunning playability and breathtaking realism.
Everything in Organteq can be tweaked - from the composition of the organ to the sound of each pipe - making it possible to reproduce a wide variety of existing organs or to explore unknowns musical lands.


How does Organteq sound?
The core synthesis algorithms of Organteq are based on aeroacoustics of the organ pipes. The equations of the air jet growing and impacting the labium, the equations of the beating reed, as well as the ones that describe the pipes resonances, are used to synthetize organ pipe sounds.
In addition, the acoustics radiation from the pipes ends to the division box first, and then to the main space. This makes it possible to listen to the organ sounds in various configurations.
Click Here to read more about Organteq 2's physical modelling.
You can also take a listen to these uploads by organists all over the world on The Concerthall - The internet's biggest platform for VPO performances. With over 6,000 users and 49,000 uploads, The Contrebombarde Concert Hall is the most known and active online community for sharing and listening to organ pieces.
How Does MIDIWorks Come Into Play? 
We here at MIDIWorks provide quality MIDI Hardware created specifically to work alongside Virtual Pipe Organ software like ORGANTEQ. Whether you decide to build your own system from scratch, buy an entire system from us, or MIDI-fy an existing organ, we can provide you the correct hardware. Virtual Pipe Organs do have a learning curve in order for you to be able to learn to configure and play it, but our team of knowledgeable staff is there to help you along the way. Our goal is to get you playing as soon as possible, regardless if you are tech-savvy or not.
You can learn more about the general hardware we offer by clicking here. If you would like to view our products in greater detail, we invite you to visit our store.


Share and Listen to ORGANTEQ Uploads
We welcome you to visit www.contrebombarde.com, a community of VPO organists and enthusiasts! Upload or listen to ORGANTEQ pieces (as well as other VPO software), and connect with other users!
Audio Samples:
Water Music » by G.F. Handel, arr. Marcus Torén
Gigue & Fugue » by J.S. Bach
Messe Breve - Benedictus » by Jacques G. Buvat